Carers of East Lothian and Alzheimer Scotland are delighted to welcome people living with dementia and their family/carers to a musical tea on Wednesday 25th January, 2 to 4 pm, at the Fraser Centre, Tranent, to learn about creating a Playlist for Life.
The event will include information about personal playlists (how to make and use one and why), the voice of lived experience from a local carer, a fun musical activity with Playlist for Life resources and tea, coffee and cake!
The event is FREE but booking is required. Please call 0131 665 or 0135 or email centre@coel.org.uk to reserve your space now!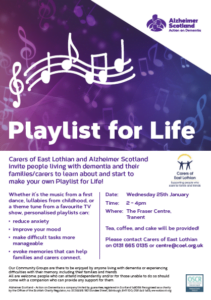 Please also share Playlist for Life Musical Tea Poster with anyone you think would be interested in attending the event.